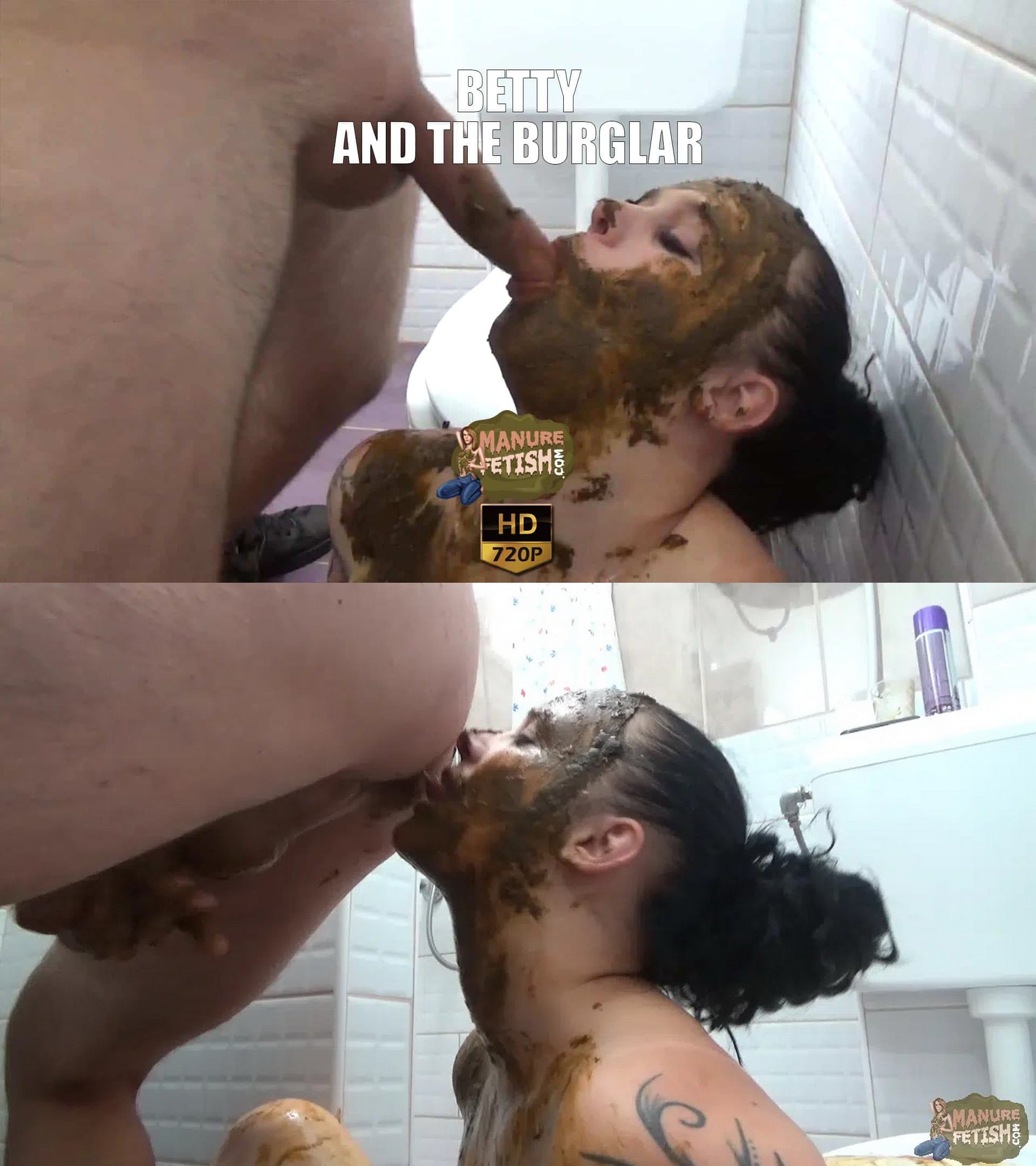 A Burglar is breaking in Bettys place, he's looking for valuables, as he's looking through the place he's hearing showering noises. He surprises Betty in the shower and pulls her out of it. He lets her suck his cock. After the short blowjob he's pushing his load into Bettys mouth. He covers her face and boobs completely and shoves his cock right back into Bettys mouth. Betty also needs to relieve herself, so she grabs a glass to pee in it and to relieve herself on the toilet seat. The Burglar pushes her face into it so she can lick it off the seat. She covers herself even more in her brown waste. She drinks the glass full of her pee and continues to suck his cock. She also begins to give him a nice rimmjob right after they've fucked in doggy. Betty also masturbates and pees on the floor. Betty liked what the Burglar had done with her so he stayed overnight. The next morning, Betty prepares some breakfast. She doesn't like the normal taste of the crescent roll, so she spices things up with her own brown cream. The burglar also wakes up and joins Betty in her breakfast. He doesn't let Betty drink from the cola, instead he fills a cup with his own yellow pee, so Betty gets a nice warm drink.
After they are done with breakfast, they want to have fun again, so they both get back to the Bathroom. Bettys starts to blow his cock and masturbates at the same time. The Burglar needs to relieve himself again and Betty is ready for it. Betty smears her face again with his hot brown cream and also Bettys ass is full and needs to be emptied. So she relieves herself on the floor and smears even more on her Body. She wants to lick his asshole again, which the Burglar agrees with. After Betty is done with the rimjob the Burglar finishes off with a nice cumshot in her mouth.
1 review for Betty and the burglar
First of all let me say this movie is close to perfect (but i could not give it 5 out of 5)!
When having said that I think scene 1 is cool and I like the idea of the thief/burglar threatening Betty to do nasty things with him but there should have been a bit more acting (not that is has to be very long scenes as in the german Portrait Extrem and Avantgarde- movies had in those days) just something with a couple of more minutes Betty first refusing to play with him but then thinks its nice afterwards after a short while :-D. Then maybe him breaking in again and she would gladly fuck him – that was not really obvious that was that happening.
Other than scat-wise I think scene 1 was very good also with the pissing but I think scene 2 lacked more scat (Betty could not smear her as much as in the 1 scene) and piss and more eating and drinking from Bettys side. So I guess they just should have been more full before the scene hehe.
Anyway I think this movie deserves applause and I look forward to see more "normal" scat scenes with 1, 2, 3, 4 or even more men in it maybe also lesbians and men.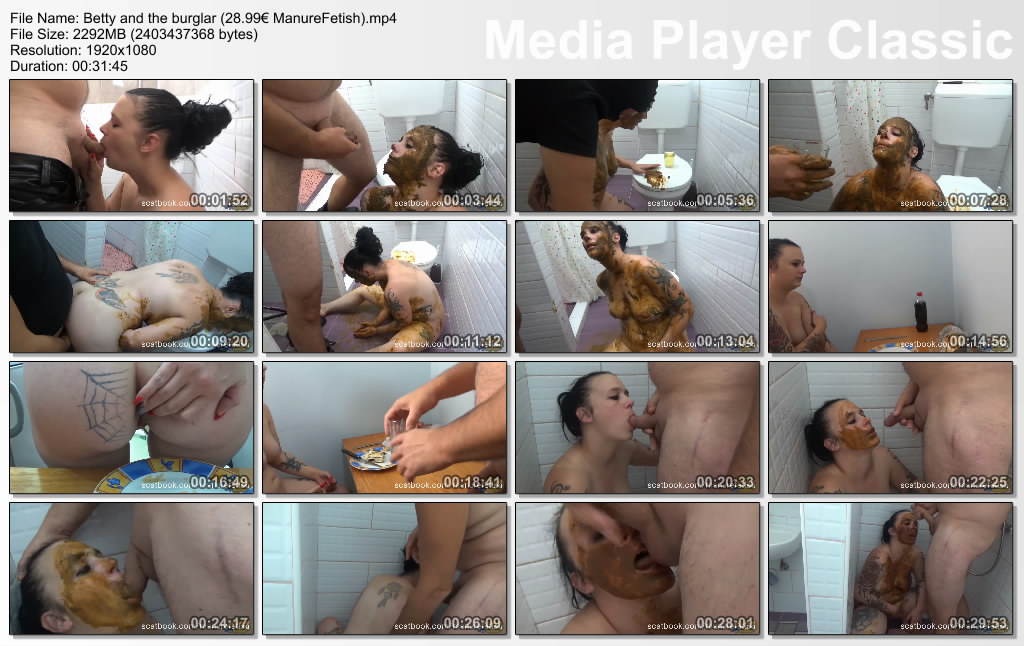 Betty_and_the_burglar__28.99____ManureFetish_.mp4
The post Betty and the burglar (28.99€ ManureFetish) first appeared on Copro Porn Site #1.